Last week there was a huge online campaign to take action about the need for more diversity in books for young readers. At OneFour, we posted about it here. Today, we've rounded up a list of 2014 debut titles that feature an author and/or a main character from a diverse background. These titles were suggested by their authors. If you're looking to diversify your shelves, you might want to explore some of these:
Otherbound by Corinne Duyvis
Whenever Nolan Santiago blinks, he sees through the eyes of a mute servant girl from another world. She's completely unaware–until now.
Push Girl by Chelsie Hill and Jessica Love
After a drunk driving accident leaves her paraplegic, high school senior and talented dancer Kara is faced with the struggles and triumphs of adjusting to life on two wheels.
The Misadventures of the Family Fletcher By Dana Allison Levy
Meet the Fletchers! Four adopted boys, two dads – and one new neighbor who just might ruin everything.
The
Secret Side of Empty by Maria Andreu
An undocumented Latina facing an uncertain future… as well as everything else that high school brings.
Lies We Tell Ourselves by Robin Talley
In 1959 Virginia, the lives of two girls on opposite sides of the battle for civil rights will be changed forever.
Far Fr
om You by Tess Sharpe
Fresh out of rehab, Sophie Winters is determined to find her best friends killer, while trying to keep their relationship secret from their grieving friends and family.
Caminar by Skila Brown
Set in 1981 Guatemala, a novel in verse tells the tale of a boy who must decide what it means to be a man during a time of war.
Gilded by Christy Farley
A Korean-American girl with a black belt and a deadly proclivity with steel-tipped arrows discovers an ancient Korean god has been kidnapping the first-born daughters of her family for generations. And she's next.
Midnight Thief by Livia Blackburne
A gifted thief joins the Assassins Guild only to find out that what she thought was the perfect job is much more sinister than originally imagined.
No Surrender Soldier by Christine Kohler
Set in Guam during the Vietnam War era, 15-year-old Kiko discovers his mother was raped during WWII by a Japanese soldier. What he doesn't know is that a WWII Japanese soldier is hiding in the jungle behind his house.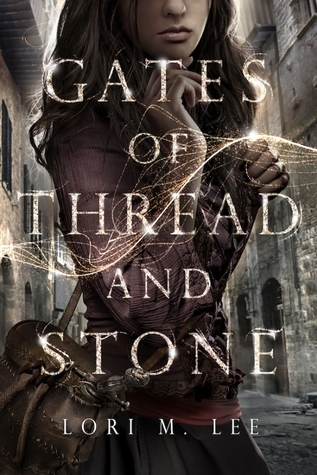 Gates of Thread and Stone by Lori M. Lee
A girl who can control the threads of time must join a rebellion to save her brother and find answers about her mysterious past.
The Girl from the Well by Rin Chupeco
A Japanese revenant who has spent her afterlife killing murderers discovers something strange and deadly inside a teenage boy – something that would just kill to get out.
The Fire Wish by Amber Lough
Two girls–a Kurdish princess and a jinni spy–trade places while the humans and jinn are at war.
Tabula Rasa by Kristen Lippert-Martin
A girl battles for her life within the walls of her hospital-turned-prison when a procedure to eliminate her memory goes awry and elite soldiers burst in to eliminate her.
The Walled City by Ryan Graudin
Three teens race against the clock to escape a lawless, walled city.
Don't Touch by Rachel Wilson
A moving story of a talented girl who's fighting an increasingly severe anxiety disorder, and the friends and family who stand by her.
We'd love to hear what your favorite books with diverse characters are. Tell us about them in the comments.
Skila Brown has an MFA from Vermont College of Fine Arts. She grew up in Kentucky and Tennessee, lived for a bit in Guatemala, and now resides with her family in Indiana. Her debut novel, CAMINAR, is available now from Candlewick Press.